Berendsen Fluid Power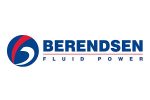 As Australia's largest locally owned hydraulics company, Berendsen Fluid Power service, manufacture and supply custom hydraulic components and solutions across the whole of Australia. Besides the service and engineering divisions, Berendsen's key manufacturing activities take place out of the state of the art, ISO9001:2008 certified Newcastle branch.
Berendsen have developed their own range of cylinders including roundline cylinders, AM1 mill cylinders and telescopic as well as custom built cylinders, manifolds and lubrication units to customer specifications.
Our range of  products are currently not available to purchase through our online shop. For product information, pricing and availability regarding our product range please fill out a form, call or email us using the links below.