Eaton Aeroquip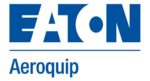 With over 65 years experience, Aeroquip are the specialists in hydraulic hose, fittings, adapters, couplings and fluid connectors for all pressures in industrial, aerospace and automotive applications.
Aeroquip products are known for their technological edge and are particularly well regarded among both amateur and professional racing and performance automotive enthusiasts. Aeroquip continue to advance the field of hoses, fittings, adapters and connectors in all manner of hydraulic applications.
Our range of Aeroquip products are currently not available to purchase through our online shop. For product information, pricing and availability regarding our Aeroquip product range please fill out a form, call or email us using the links below.