Husco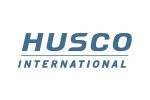 Husco International are a global leader in the development and manufacture of hydraulic controls for off-highway applications.
With an aggressive approach to technological and design excellence, Husco aim to lead the industry in all areas of hydraulic control valves.
Husco are well known for their range of hydraulic control valves, cartridge valves and electronic control systems.
Our range of Husco products are currently not available to purchase through our online shop. For product information, pricing and availability regarding our Husco product range please fill out a form, call or email us using the links below.