Olaer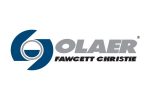 Olaer have a long industrial history dating back more than 250 years, in activities ranging from pots and kettles, engines for steam ships to munitions and armaments in times of war. These days Olaer are better known for their accumulators and low-pressure surge vessels as well as filters and air/water oil coolers.
Olaer are now part of the Parker Hannifin Corporation.
Our range of Olaer products are currently not available to purchase through our online shop. For product information, pricing and availability regarding our Olaer product range please fill out a form, call or email us using the links below.