SMC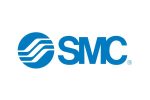 SMC is a Japanese based company started in 1959 & is a global leader in automatic control equipment with a focus on the accuracy and efficiency. They specialises in pneumatic and electronic products to supply a variety of markets.
SMC develop and manufacture pneumatic components for almost all sections within a pneumatic circuit; they include:
Actuators: tie-rod, ISO, round line, compact, rod-less
Air quality: filters, regulators, lubricators
Valving: 2/2, 3/2, 5/2 , ISO, process, stackable
Hose & Fittings: polyethylene, polyurethane, nylon, brass, stainless
They also provide more specialised products and solutions for industrial purposes such as dryers, grippers, boosters, chemical rated valves and a range of electric actuators.
Our range of SMC products are currently not available to purchase through our online shop. For product information, pricing and availability regarding any of the SMC product range please fill out a form, call or email us using the links below.