Sun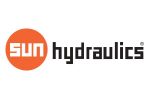 Sun Hydraulics manufacture and specialise in screw-in hydraulic cartridge valves and pride themselves on delivering high quality customer service.
With a long history of pioneering cartridge valve design and production, Sun Hydraulics offer pressure relief, counter balance, solenoid operated, high capacity valves and more.
Our range of Sun products are currently not available to purchase through our online shop. For product information, pricing and availability regarding our Sun product range please fill out a form, call or email us using the links below.