Berendsen's Newcastle Branch has recently made a significant investment in their Machining capabilities with the purchase of an Okuma Multus CNC Multi-Tasking Machine. The purchase of this machine further cements Berendsen Newcastle's position as a premier machine shop in NSW.
The Okuma Multus Machine represents the latest in machining technology and builds on the benefits of traditional CNCs.
In addition to traditional CNC machine benefits, the Okuma CNC Multi-Tasking Machine combines several previously separate cutting processes including turning, milling, drilling, and tapping into a one single machine, concentrating several machine functions in just one operation, providing improvements in accuracy and efficiency.
The Okuma Multus machine will enable Berendsen to provide machining customers with a vastly improved level of service, with specific benefits including:
Increased accuracy and precision by machining parts in just one set up rather than manually moving parts between machines.
Faster turnaround on machined parts given all processes are completed by one machine, with less set up time involved and a reduction in time spent moving parts between machines.
Flexible machining from all directions enables powerful cutting along the entire Y axis.
Highly efficient cutting of difficult to machine materials is possible
Okuma's 'thermo-friendly' concept enables remarkable machining accuracythrough original structural design and thermal deformation control technology.
The Okuma Multus Machine will enable Berendsen Newcastle's workshop to produce small runs of complex, machined components very cost effectively, while also machining large volumes with a very high level of accuracy.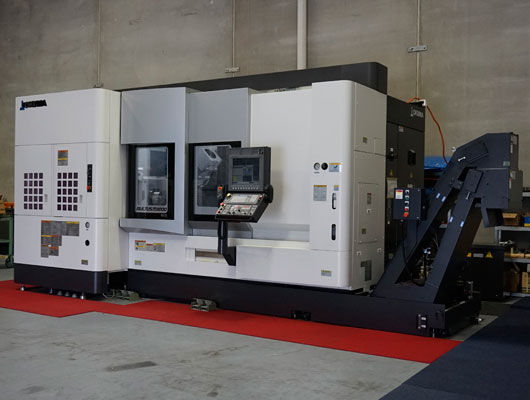 This new machine is a welcome addition to Berendsen Newcastle's ISO9001 certified workshop and compliments their extensive range of CNC Milling, CNC Turning and Manual Machines. The range of products and components we are able to now manufacture is virtually unlimited and includes flanges, adaptors, drive shafts, bulkhead fittings, gear housings, clevises, manifolds, pins, rods and brackets.
Berendsen Machining Services specialises in machining components from small one off jobs to large repeat orders. Contact Berendsen Newcastle today on 1800 679 407 to find out how we can assist with your machining needs.