Accumulators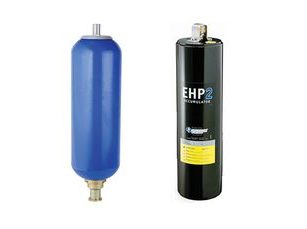 Find a quality hydraulic accumulator to suit your needs
Hydraulic accumulators allow hydraulic systems to cope with extreme demand by providing an energy storage reservoir, improving the performance of the whole system.
Hydraulic accumulators are primarily used for energy storage, emergency and safety functions, dampening of vibrations, fluctuations, pulsations, shocks and noise reduction. Hydraulic accumulators can increase the service life of your machinery and reduce maintenance costs.
We supply accumulator assemblies and accessories from well-known brands such as Olaer. Our range is a heavy duty range ideal for industrial applications.
Our Olaer range of accumulators includes:
High pressure bladder type accumulators including the AC Range – (medium and high pressure) and NG range
High pressure diaphragm accumulators including the ELM range
Accessories including safety blocks and universal charging kits
Our hydraulic accumulator range is currently not available to purchase through our online shop. For product information, pricing and availability regarding our hydraulic accumulator range please fill out a form, call or email us using the links below.