Manifolds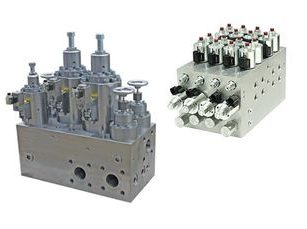 Manifolds regulate the fluid flow between pumps, actuators and other components in a hydraulic system, allowing the operator to control how much fluid flows between the different components.
Berendsen is proud to have developed our own range of standard manifolds and custom designed and manufactured manifolds to meet the needs of a range of industrial applications. Our standard range of manifolds includes station manifolds, CETOP 3 manifolds, CETOP 5 manifolds and sub-plates.
Custom Designed and Manufactured Manifolds
Manufactured to the highest quality at our ISO certified manufacturing hub in Newcastle, our range includes steel, aluminium and stainless steel manifolds. Our world class CAD manifold design software and the latest technologies applied in our manufacturing process make us the first choice supplier of custom and standard manifolds. Click here for more information on our custom manifold manufacturing capabilities.
Our manifold range is currently not available to purchase through our online shop. For product information, pricing and availability regarding our manifold range please fill out a form, call or email us using the links below.