Tools & Equipment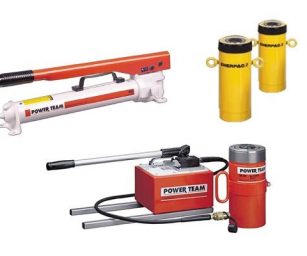 Tools and equipment are an essential part of hydraulic activity and include products such as general purpose cylinders, centre hole cylinders, double acting cylinders, high tonnage cylinders, hydraulic hand pumps, air hydraulic pumps, electric hydraulic pumps, high pressure hoses and quick couplers, sourced from SPX Power Team.
Our tools and equipment range includes products such as:
Electric operated pumps
Pneumatic operated pumps
Mechanical operated pumps
Hoses
Gauges
Nut splitters
Hydraulic punches
Spreaders
Jaw type pullers
Push pullers
Tire removers
Hydraulic testers
Torque wrenches
Our hydraulic tools and equipment range is currently not available to purchase through our online shop. For product information, pricing and availability regarding our hydraulic tools and equipment, please fill out a form, call or email us using the links below.