Quality Hydraulic Cylinder and Ram Repairs
Berendsen customers demand cylinder repairs that last. Our workshops are well equipped with comprehensive workshop facilities and technical know-how to safely repair the most challenging of cylinders. We repair and service heavy duty cylinders, medium duty cylinders, light duty cylinders, roundline cylinders, AM1 mill cylinders, two-stage load hold cylinders, telescopic cylinders and special purpose cylinders.
Our hydraulic cylinder repair service adheres strictly to quality assurance measures, with our main manufacturing hub in Newcastle being ISO 9001-2000 quality certified. Expect superior life and performance from our rebuilt cylinders and the reassurance of the comprehensive cylinder repair warranty.
Our rigorous cylinder service process means you can rest assured that your cylinders will be well looked after. Below is the full cylinder service process that may be used on each cylinder servicing task depending on the requirements, and all done in-house thanks to our excellent branch facilities.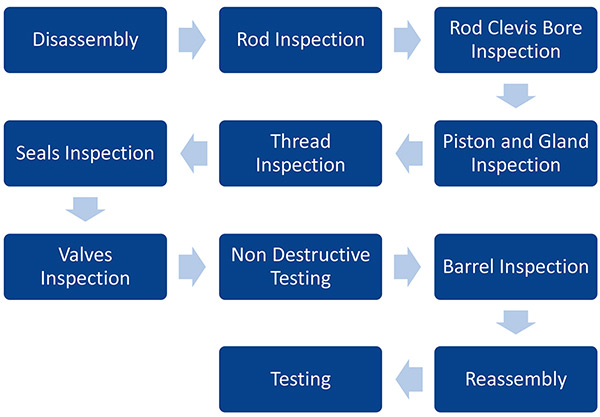 Click here for more detailed information about our cylinder repair process.
We also specialise in the servicing and repair of earthmoving equipment cylinders, and you can find out more about our expertise here.
Berendsen Fluid Power also offer a comprehensive range of manufactured cylinders and customised hydraulic solutions to suit your system needs. Contact your local Berendsen branch to see how we can assist with your cylinder repair and servicing needs.