Hydraulic Pump And Motor Repairs To Keep Your Site Operating
At Berendsen we understand that the performance of your hydraulic motors and pumps is vital to your site's operations. So we have designed our pump and motor repair processes to produce a repair that reduces your equipment downtime and avoids costly shutdowns. We work fast to get your pumps and motors repaired as fast as possible.

When your plant or mobile pumps or motors are overhauled by Berendsen you can be assured of a precision repair the first time. Accurate diagnosis of component failure and appropriate repair is only achieved through years of experience, as well as knowledge and access to manufacturer specifications. A Berendsen repair on your pump or motor follows strict works procedures and stringently adheres to the manufacturer specifications for strip, disassembly, assembly and testing to ensure each component is returned to maximum life and efficiency.
Our workshops are well equipped with comprehensive hydraulic pump and motor
repair facilities including: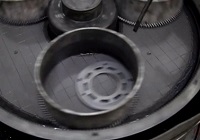 Dedicated clean room facilities
Hot-wash, sandblasting and lapping facilities
Comprehensive test rig facilities:
– Variable speed
– Open and closed loop testing
– Up to 200kW power
– Up to 350 bar max pressure
– Up to 500 l/min flow
Pump and Motor Repairs You Can Rely On

Pump Stripping and Assessment
Our process begins with a detailed assessment of your pump's condition, including stripping the pump according to the manufacturers disassembly instructions and documenting the condition of each individual component on the pump to identify any wear, scoring, scratches and burrs on mating and moving parts. This enables our experienced technicians to identify the root cause of the pump failure.
Assembly, Paint and Testing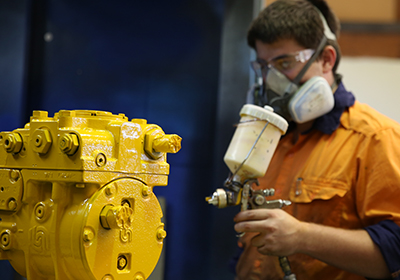 Once the replacement parts have been correctly identified, the pump is reassembled in accordance with Berendsen's documented assembly procedures and the manufacturer's guidelines, which ensures a consistent, high quality result. To ensure quality and reliability, the performance of every repaired pump is assessed in our testing facilities. All of our sites are equipped with a variety of testing equipment ranging from basic pressure test rigs, to advanced electronic test equipment, custom built to cater for special applications. Test certificates are issued for every component tested, affording you the peace of mind that comes with knowing that your equipment has passed Berendsen's strictest performance and quality standards. If required, your pump can be freshly painted by one of our spray booths or where specialised coatings are required, by our preferred coating service providers.